By Jim Walkup, Licensed Marriage and Family Therapist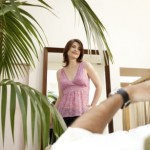 Think back over the past few weeks.  If you added up the sum of positive interactions with your beloved, how high would they be compared to the negative ones?
Passing by you, did your partner hear an "I love you?" or was it a comment about something he had forgotten to do.  As you drifted off to sleep was there an affirming good night kiss, or a "don't touch me, I need to go to sleep."
Once you get it, that you can be your partner's best mirror, you realize what a world of difference you can make as they move through the day.  As your wife goes off to teach, you can pass on the sense of how lucky the kids are to have her creativity and energy.  As she goes off to take on the challenging Board meeting, you can tell her how much you admire the effort she has put in to making it successful. When he comes home with deep frustration about his bosses comments, you can let him know that you have experienced an entirely different commitment to the work on his part in other areas.
Of course you need to find things that you can honestly affirm. Your partner will sense that you are spouting off blind positives.  However at the heart of good couple communication lies the desire to see your partner in compassionate ways.
When you pause, you can see what your partner cannot see in that moment. You know deep down some of the good intentions that your partner holds. You can appreciate the stresses and strains behind a missed effort.  You can be there to see how much more your partner has to offer than the present moment seems to reveal.
Perhaps more than anyone else, you can hold the faith for what your partner can become and offer the encouragement that will make that possible.  You beloved will never forget it.